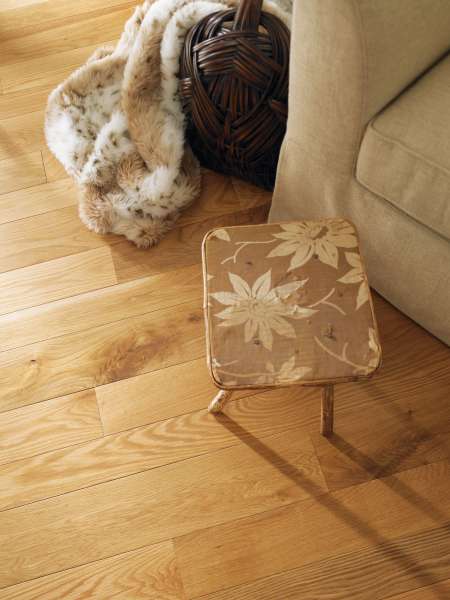 Hardwood flooring has always been the classic sign of a well-built home. For many decades now, when people walk into a home, their eyes would quickly be drawn to a beautiful hardwood floor, checking off the box as an indicator of quality. You probably have early recollections of the home you grew up in or a relative's home and its hardwood floors. Fast forward to today and you know that hardwood floors are one of the hottest trends in homes, remaining yet as an absolute statement of high quality and good taste.
Somerset Hardwood Flooring has been in the business of manufacturing hardwood floors for nearly twenty years. Located adjacent to the Appalachian timberlands, with headquarters in Somerset, Kentucky, we are a family-owned business. We have intentionally vertically integrated our company in order to maintain control of our product from the forest to your home. As an all-USA source of hardwood flooring, your flooring will be manufactured exclusively from native Appalachian trees, with our focus on oak, maple and hickory. Due to the climate of the Appalachian region, its warm summers and cooler falls lead to advantageous slower growth. Slower growth creates more defined rings, consistent color and refined grain, all of which contribute to the beauty of Appalachian hardwood.
When you meet with a Somerset Hardwood Flooring retailer, you will be delighted with the broad array of choices we offer: everything from a variety of woods, to pre-finished to unfinished, solid or SolidPlus®, plank widths, and more. if you are considering hardwood flooring and are leaning toward the lighter tones, the white oak flooring we offer is a favorite choice with homeowners. White oak flooring is valued for its hardness, with its durability making it a great option for areas that get a lot of traffic such as hallways, entryways and kitchens.
With all of the enthusiasm around hardwood flooring for today's homes, the development of flooring that has been pre-finished by the manufacturer is an amazing improvement in finish and installation with much of the market having shifted in that direction. While there is still a great market for unfinished hardwood flooring, many people choose pre-finished, thus avoiding post-installation sanding, staining and finishing. When your white oak flooring is pre-finished by Somerset Hardwood Flooring, you can look forward to placing your furniture as soon as installation is complete.
Within our selection of white oak flooring, you will find some of our collections are available exclusively in solid planks while others may be available in SolidPlus® engineered construction flooring. While the installed flooring looks identical, there are some occasions when SolidPlus® is your best option. If your white oak flooring will be installed below grade (basements), you will definitely want to select SolidPlus®. SolidPlus® has greater dimensional stability than solid flooring, making it the right choice for floors with wide planking.
We offer nine categories of hardwood flooring and white oak flooring is available in six of them:
Color Strip – offers Solid white oak flooring in 2 1/4" – 3 ¼" planks
Homestyle – offers Solid white oak flooring in 2 1/4" – 3 ¼" planks with a four-sided edge
High Gloss – offers Solid white oak flooring with a high gloss finish in 2 1/4" – 3 ¼" planks with an eased edge and square end
Character – offers Solid and SolidPlus® white oak flooring in 3 ¼" to 5" planks with knots and natural character markings
Wide Plank - SolidPlus® white oak flooring in 6"- 7" planks with eased edge and eased end
Color Plank - Solid and SolidPlus® white oak flooring in popular colors - 3 1/3" to 5" planks with an eased edge and eased end
White oak flooring would look beautiful in any home, but especially in yours. Contact a Somerset Hardwood Flooring retailer today and take a closer look at stunning USA-sourced hardwood flooring that will retain its beauty for decades to come.