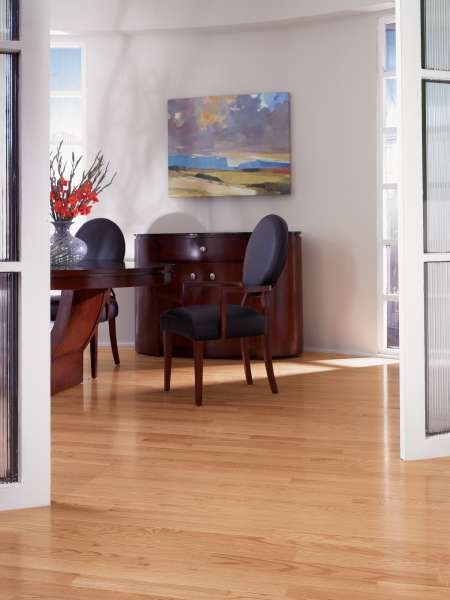 At Somerset Hardwood Flooring, located adjacent to the Appalachian timberlands, we have been in the business of manufacturing high-quality hardwood floors for nearly twenty years. We are proud to be a family-owned business and our customers appreciate that our exclusively made-in-the-USA floors consistently satisfy homeowners for their quality and beauty. With homeowners everywhere recognizing the beauty and value of hardwood flooring, the demand for hardwood flooring has never been stronger.
Through the years, our company has maintained and improved its manufacturing process, utilizing state-of-the-art equipment and high-quality lumber. Located adjacent to the Appalachian timberlands with headquarters in Somerset, Kentucky, Somerset Hardwood Flooring is vertically integrated. We are one of only a few major flooring manufacturers to own and manage our own timberland and to employ a full-time forestry staff. We have put together environmentally-responsible 100-year plans for the forest we own. When you enjoy the beauty of your USA-sourced hardwood flooring, we assure that our flooring does not contribute to the stripping of woodlands.
We offer flooring sourced from Appalachia, with its native trees known to be of the best quality in the USA. Our flooring is created from oak, maple and hickory trees. With a variety of stains and plank widths, it is certain that you will find Somerset Hardwood Flooring to offer the exact style of flooring you are seeking. Given the variations in flooring preferences, we offer nine collections based upon variations in wood and style. One of the more popular choices of our customers is Red Oak flooring.
Red Oak flooring has pink tones with hues of red throughout. It is a practical choice for homeowners as oak is known for its strength and durability. At Somerset Hardwood Flooring, red oak flooring is available in five of our collections:
Homestyle Collection – Red Oak solid flooring is available in 2 ¼ "and 3 ¼" planks, featuring a four-sided eased edge
High Gloss Collection – Red Oak solid flooring with a higher gloss finish
Classic Collection – Red Oak solid and the white oak tree is actually native to our home, Kentucky. flooring available in in 2 ¼ "and 3 ¼" planks, with a lightly textured surface
Wide Plank Collection – Red Oak SolidPlus® flooring available in 6" and 7" planks
Color Plank Collection - Red Oak solid and SolidPlus® flooring available in 3 ¼", 4" and 5" planks and popular colors
As described, Somerset Hardwood Flooring offers Red Oak in both Solid and SolidPlus® engineered construction. SolidPlus® has all of the beauty of solid hardwood flooring plus the added benefits of greater dimensional stability, installation versatility (can be installed above grade and below grade, even over radiant heat) and it makes sense environmentally as a better use of natural resources. A block of wood that yields a ¾" piece of traditional solid flooring produces 4-5 wear layers for SolidPlus® flooring. Many of the red oak flooring options we offer are available in solid and/or SolidPlus®, with both options equally beautiful.
If you are looking for red oak flooring, contact a Somerset Hardwood Flooring retailer for a tour of our incredible selection of stunning Appalachian hardwood flooring. From our selection of native Appalachian lumber through the entire manufacturing and finishing process, you have found the right source for your hardwood floors.