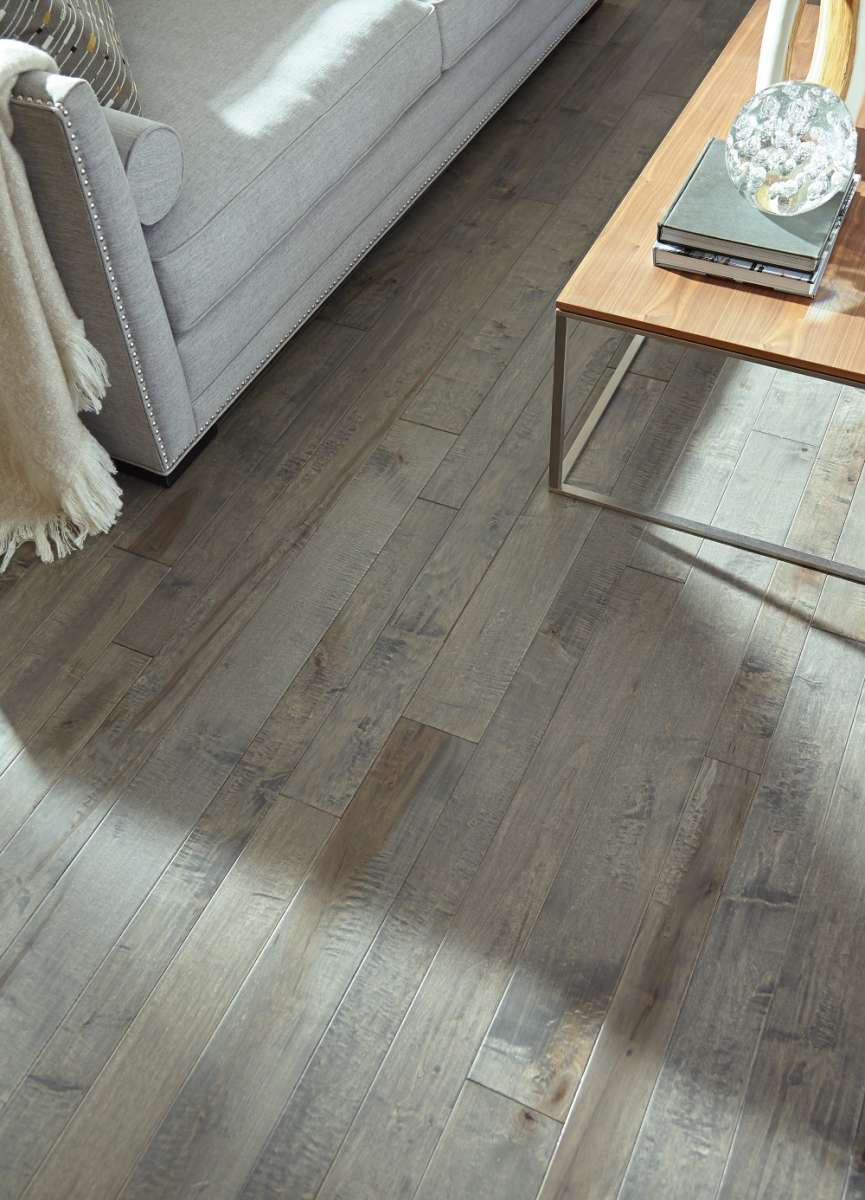 The selection in hardwood flooring has never been better than what you are seeing in the market today. Homeowners, recognizing both the beauty and return on investment when they choose real wood flooring, know that real wood flooring in their homes keeps them in step with one of today's hottest trends in home design. While there are other floorings on the market today that may resemble real wood flooring, typically called laminate flooring, this look is not anywhere as authentic or beautiful as the look of real wood flooring. And, the life of laminate flooring in your home doesn't begin to match up to the life of real wood flooring.
If you are considering real wood flooring, look no further than Somerset Hardwood Flooring, available through retailers everywhere, for incredible hardwood flooring that checks all the boxes for beauty and durability. When you invest in real wood flooring from Somerset Hardwood Flooring, you are going with a product of high quality that will be incredibly beautiful upon installation. Nestled in the heart of the Appalachian timberlands, Somerset Hardwood Flooring is headquartered in Somerset, Kentucky. As a nearly 20-year old family-owned business, we are proud to manufacture USA-sourced real wood flooring exclusively. We are one of only a few major flooring manufacturers to own and manage our own timberland and to employ a full-time forestry staff. As an eco-sensitive company, we have put together 100-year plans for the forest we own. Appalachian hardwood is known for its strong fibers, contributing to its strength, durability and stability. These are qualities that constitute an important factor in flooring that you want to do well through the years.
Our real wood flooring is available in nine different style collections, frequently with options of solid and/or SolidPlus® engineered construction and with the option of finished or pre-finished. Real hardwood flooring has evolved over the years to offer a number of great options for homeowners. Your Somerset Hardwood Flooring retailer will help you sort through and consider a number of alternatives that are available for your home:
Solid or SolidPlus® - Our real wood flooring is available in a choice of traditional solid wood planks and SolidPlus® engineered construction, with an exception under particular circumstances when only one or the other is offered. For example, due to the specific needs of real hardwood flooring when installed below grade (basements), only SolidPlus® is recommended. Specific qualities to consider when choosing between solid and SolidPlus® include:

The look is identical. Both solid and SolidPlus® real wood flooring are equally beautiful.
The ability to be refinished if ever needed is the same.
SolidPlus® is clearly the product to use when installing real wood flooring below grade (basement).
Engineered flooring is more dimensionally stable than solid wood flooring, making it a great choice for homeowners who desire wide plank real wood flooring.
The same block of wood that yields one piece of traditional ¾" solid flooring produces four to five 3mm wear layers (surface layer) for SolidPlus® real wood flooring.

Pre-finished or Unfinished – One of the greatest innovations in real wood flooring has been the development of pre-finishing done at the manufacturing level. While unfinished flooring remains available to our customers at Somerset Hardwood Flooring, many of our customers now opt for pre-finishing. Factory pre-finishing enables your hardwood flooring planks to be delivered to you with the staining, sanding and finishing already done. Upon installation, your new real wood flooring is complete – simply waiting for you to place your furniture and enjoy.
You are going to be thrilled with your real wood flooring – a sign of quality and classic beauty in all the best homes. Contact your Somerset Hardwood Flooring retailer today and take that first step toward stunning real wood flooring.