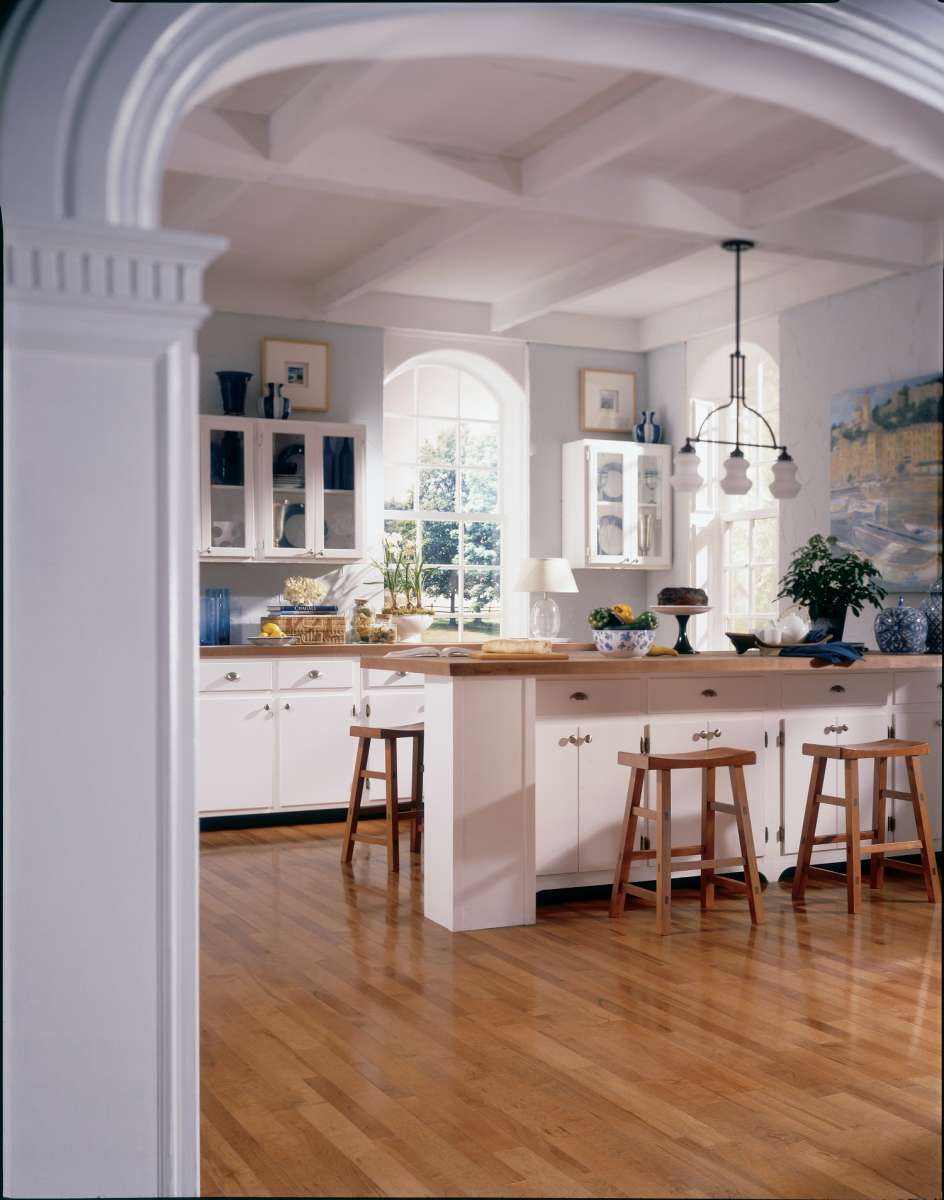 One of the most game-changing trends in the manufacturing of hardwood flooring is the option of prefinishing. Homeowners have shifted a large portion of the hardwood flooring market from unfinished to prefinished for several reasons:
Prefinishing results in a product with a consistent stain and finish from one board to the next.
The process is much cleaner for homeowners – avoiding the in-home sanding, staining and finishing process after installation.
There is no odor as the staining process occurs in our facilities.
The process is much faster as there are no additional steps beyond installation.
Floor down – furniture in – enjoy!
At Somerset Hardwood Flooring, we have mastered the pre-finishing process and customers are thrilled with its ease and its looks. When you work with one of our distributors, located conveniently throughout the USA, you will be amazed with the selection of beautiful flooring materials: the types of wood, the finishes and the range of widths available. Our assortment of hardwood materials has been satisfying the most discriminating home owner for years.
If you are considering maple flooring, prefinished maple hardwood flooring from Somerset is stunning. In terms of style, maple has a light, natural finish, a subtle grain that works well everywhere but is particularly popular with customers who are dealing with large spaces. Prefinished maple hardwood has the longevity to withstand high traffic. If you lean to a more contemporary look for your home, maple is frequently chosen for a consistent contemporary look. If you are looking for affordable pricing and durability, maple hardwood flooring is a strong option.
Somerset Hardwood Flooring, a family-owned business, takes great pride in the work that we do. We are a vertically integrated company that has control of our product from the forest to your home. As we have had much of our business shift to prefinished flooring, rest assured that you are receiving flooring that has been evenly stained and finished. We have added an extra step in prefinishing that we call a "full face fill". This step seals the pores of the wood, enabling us to produce an ultra-smooth, even, rich sheen that cannot be duplicated when finishing is done on-site.
At Somerset we offer a variety of options of prefinished maple hardwood flooring in several of our collections:
Hand Crafted Collection – Prefinished maple hardwood flooring is available in 3 ¼", 4" and 5" random width SolidPlus® or 6" ultra-wide SolidPlus® plank.
Character Collection – Prefinished maple hardwood flooring is available in both Solid and SolidPlus® planking in a wide range of widths.
Specialty – Prefinished maple hardwood flooring is available in both Solid and SolidPlus® planking in a wide range of widths.
Wide Plank – Prefinished maple hardwood flooring is available SolidPlus® planking in 6"-7" widths.
With prefinished hardwood flooring, the entire process is so much simpler for our customers. Gone are the days of people hesitating to do hardwood because its installation is so messy and disruptive. Today's homeowner will be stunned by their beautiful floors from the time they open the first carton and see its rich tone and luster. Contact a Somerset Hardwood Flooring distributor today and take that first step to a beautiful oak hardwood floor!