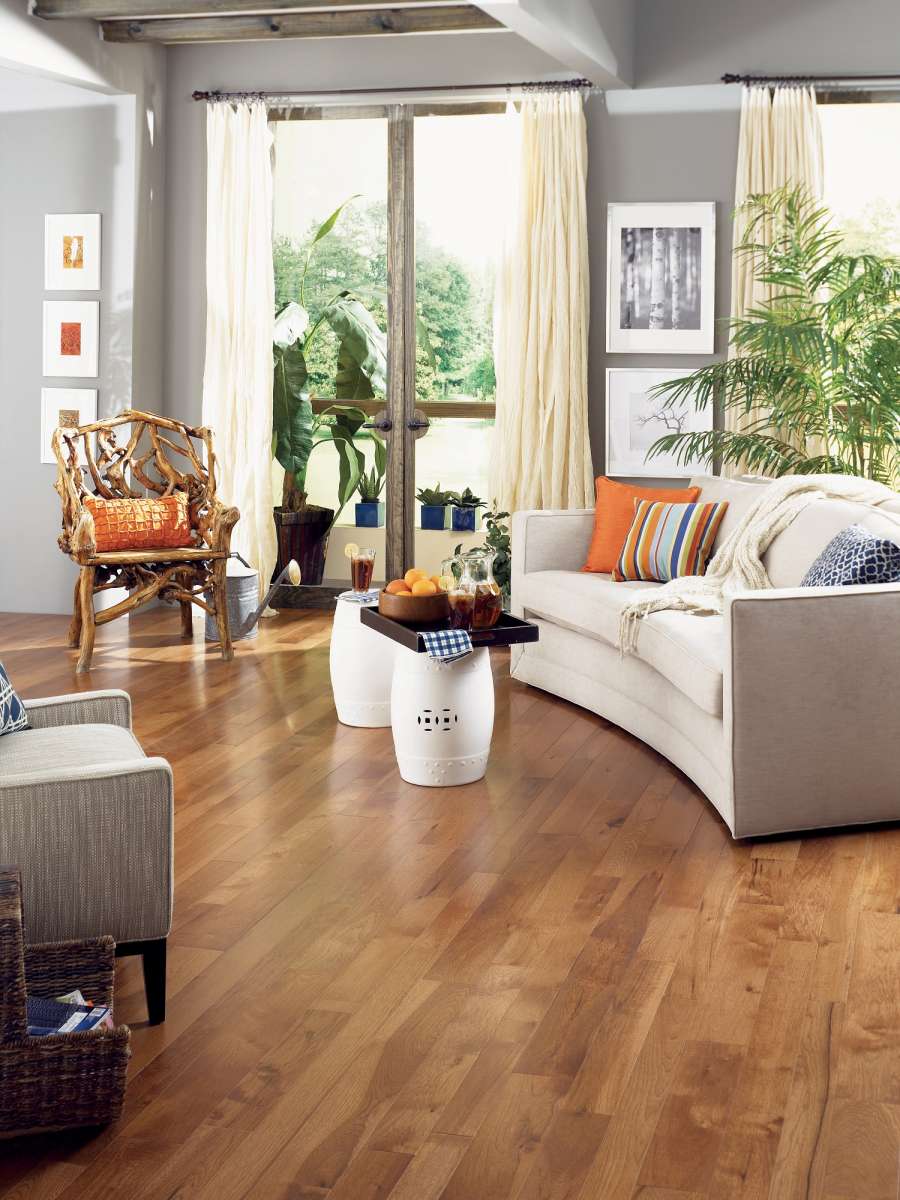 Hardwood flooring has been beautifying homes for many years and today, more so than ever before, discriminating home owners know that hardwood floors set the stage for everything else in home design and décor. With hardwood flooring as your design platform, everything looks better!
Somerset Hardwood Flooring, with corporate headquarters in Somerset, Kentucky, has been creating stunning hardwood flooring for nearly two decades. As a family-owned business, we have created a culture of excellent quality and strong customer service. We achieve this by using only the finest woods from our region, the Appalachian timberlands. With control over the raw materials and manufacturing process, we are proud to provide product that is of outstanding quality. Our floors are stunning in appearance and will wear well for many years to come.
One of the greatest innovations in hardwood flooring is the movement to pre-finished flooring. While for many years, unfinished flooring was the standard, customers today are seeking the ease and beauty of factory pre-finished hardwood. Somerset Hardwood Flooring pre-finished product offers several strong benefits to our customers:
Pre-finishing brings the expertise of factory flooring specialists to your product. Our work is done with consistency in both the staining and finishing of your floor planks.
Consumers can skip the lengthy steps of staining and finishing post-installation inside your home.
Pre-finished hickory flooring is one of the more popular products chosen by our customers. Appalachian hickory is stunning. As a great alternative to traditional oak flooring, pre-finished hickory is a harder wood with a bolder definition of knots and markings. Pre-finished hickory flooring's hardness makes it a sensible option for high traffic spaces. Our product line includes a number of options with pre-finished hickory flooring including a variety of plank widths, solid construction and SolidPlus® engineered construction, along with several color choices.
Hardwood flooring is a solid investment with a full payback: a striking look that homeowners will enjoy through the years plus the added value hardwood flooring brings to your home. It is a well-known fact that hardwood floors are considered a must-have for today's homebuyers. When you put hardwood floors in your home you get to enjoy your investment every day – and on the day you sell your home!
There is no need to feel overwhelmed when you are shopping for pre-finished hickory flooring. With several thousand Somerset Flooring retailers, you have access to flooring experts who will work with you to sort through these options and help you to select the flooring of your dreams. Because you are choosing pre-finished hardwood flooring, bypassing the work that used to be done post-delivery to your home, it won't be long before you will be enjoying your new floors. You will be delighted with the ease of maintenance, always knowing that your flooring is here to stay.
Contact a Somerset Hardwood Flooring retailer today and get ready to come home to the look you've been dreaming about. At Somerset we take great pride in manufacturing stunning made-in-the-USA flooring that will increase the value of your home at the same time that it enhances the look of your home.