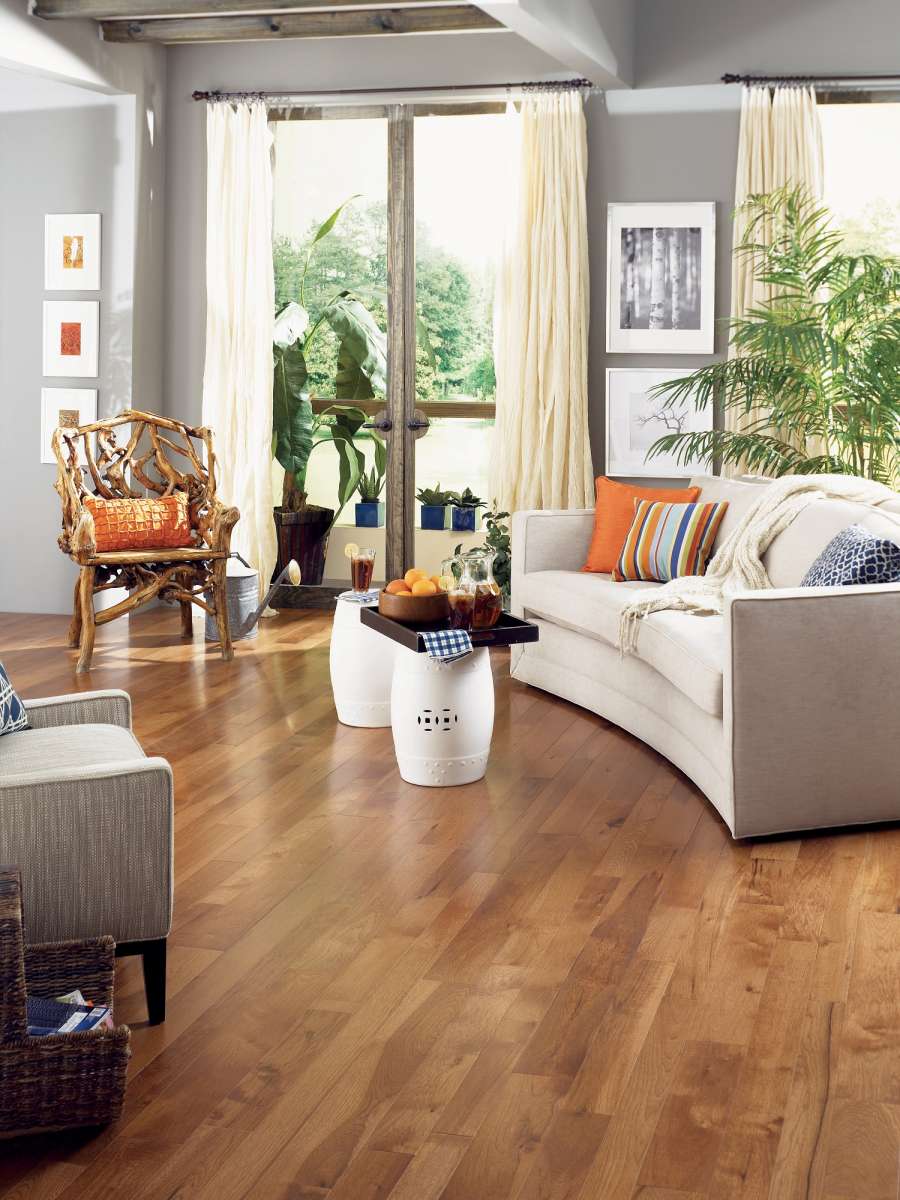 If you are considering hardwood flooring for your home, look no further than Somerset Hardwood Flooring. With several thousand retailers around the country, you will be delighted when you check out the beauty of our hardwood flooring. With headquarters in Somerset, Kentucky, adjacent to the Appalachian timberlands, our made-in-the-USA flooring is second-to-none. As a vertically-integrated company with control of the sourcing of our lumber and the entire manufacturing process, hardwood floors from Somerset clearly reflect a family-owned business committed to high quality and excellent customer service from the forest to your floors. It is this culture of quality and service that has enabled us to be in the business of hardwood flooring for nearly 20 years.
In selecting hardwood flooring, you have many options and our network of retailers will help you walk through this process. Type of wood, width of planks, solid or engineered? No worries. We are here to help you bring your vision to life in a way that is both aesthetically beautiful and ready to stand the test of time.
Hickory hardwood flooring is a favorite for hardwood flooring fans. As a great alternative to traditional oak flooring, hickory hardwood flooring is known for several distinct features:
Hickory hardwood flooring has a bolder look than oak with its knots, markings and variations in grain and color.
Due to its hardness, hickory hardwood flooring is an excellent choice for your high traffic spaces.
Hickory hardwood flooring is appreciated by homeowners for its durability, damage resistance and ease of maintenance.
Through the years, the market for hardwood flooring has shifted significantly from unfinished to pre-finished flooring. While unfinished flooring remains available, many customers have shifted to pre-finished for its outstanding factory stain and durable finish. And, of course, customers are thrilled to see their finished floors immediately upon installation, minus the tedious steps of staining and finishing at home.
You will be delighted with the variety of options Somerset Hardwood Flooring offers in hickory hardwood flooring. At Somerset, we have a variety of collections of hardwood flooring that help our customers to zero in on the exact flooring that best suits their goals. If you are leaning toward hickory hardwood flooring, we offer hickory in several of our collections:
Hand Crafted – Hickory hardwood SolidPlus® flooring in 6" width planks
Character – Just like the name of the collection, the character of hickory is striking
Specialty – Hickory is a great alternative to oak
Wide Plank – As its name implies, hickory hardwood flooring available in 6" and 7" widths
Most of our hickory hardwood flooring is available in two options, solid and SolidPlus® engineered flooring. SolidPlus® looks identical to solid flooring and can be sanded and re-finished at a later point if desired. Additionally, it provides more stability than solid hardwood flooring, can be installed above the grade or below (basements) and is eco-sensible with a much greater yield per block of wood.
Are you ready to check out the best hickory hardwood flooring on the market? Contact a Somerset Hardwood Flooring retailer today and take your first step toward the hardwood floor of your dreams.