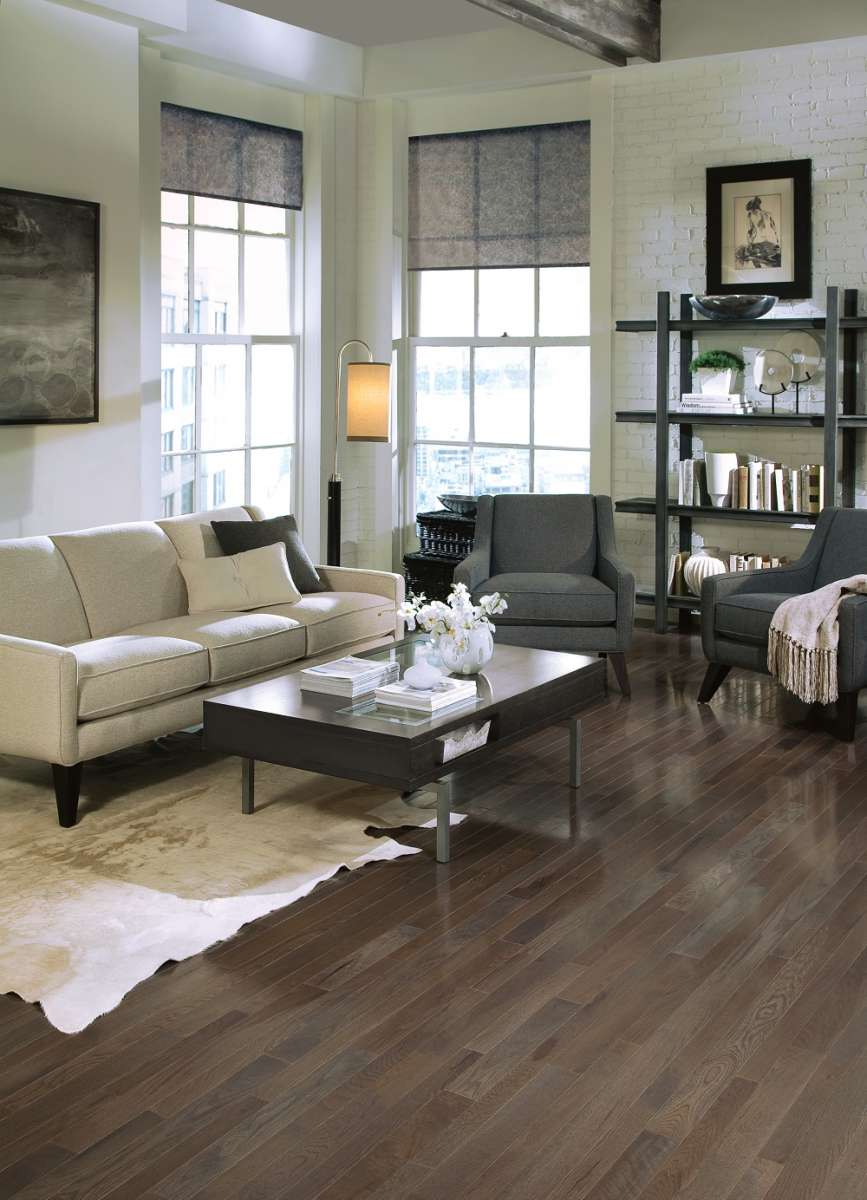 One of the most valued colors in home fashion today is gray. While that may sound on the conservative side, it is actually the opposite of that. Gray is an incredibly effective backdrop for everything else. With gray as the platform, the other elements of design and décor in your home stand out, whether that be other woodwork and moldings, furnishings or art. In fact, the use of gray stains in hardwood flooring is a look that will withstand the test of time. As you change your furniture, gray hardwood floors remain the background that allows everything else to pop.
If you are considering hardwood flooring for your home, you must check out the unbelievably broad selection of high-quality real wood flooring available through Somerset Hardwood Flooring. As you well know, installing hardwood flooring in your home is an investment and you are wise to choose your brand of hardwood flooring carefully. Not all hardwood flooring is the same when it comes to quality. With Somerset Hardwood Flooring, you can buy with confidence, knowing that your flooring is backed up by a company you can trust.
Somerset Hardwood Flooring is a family-owned company that has been in the business of delivering superior quality USA-sourced hardwood flooring for nearly twenty years. Our corporate headquarters are in Somerset, Kentucky, nestled in the heart of the Appalachian timberlands. As you hear in so many things, location matters. And our location matters because we are able to own our own forests, harvest our timber and manufacture your flooring with state-of-the-art equipment and a team of loyal employees who take pride in delivering the best. With control of your hardwood flooring from the forest to your home, you can purchase from us with confidence that your floors will be striking and wear well through the years to come.
If you are thinking about gray hardwood floors, you will love the numerous options offered by Somerset Hardwood Flooring. We offer gray hardwood floors in a range of different woods and stains, a range of plank widths and in a choice of traditional solid and SolidPlus® engineered construction flooring:
Your selection of wood for gray hardwood floors include red oak, white oak, maple and hickory. Native to Appalachia, these woods have their own characteristics which make them ideal in function and appearance. Appalachian hardwood is known for its strong fibers, contributing to its strength, durability and stability. This is an important factor in flooring that you want to wear well through the years.
With Somerset Hardwood Flooring's huge selection of hardwood flooring, we break them into nine different collections. You will find stunning gray hardwood floors in all of our collections (with the exception of the High Gloss Collection) with a variety of stains:

White oak in Charcoal, Rustic Gray and Urban Gray
Red oak in Smoke and Colonial Gray
Maple in Ocean Gray, Graystone and Onyx
Hickory in Ember

Based upon your preference, you can select gray hardwood flooring in a range of plank widths from 2 ¼" to 7". These are all packaged in random lengths for installation.
One of the great innovations at Somerset Hardwood Flooring has been the creation of SolidPlus® engineered construction hardwood, readily available for you in many of our gray hardwood floors. While solid and SolidPlus® flooring looks identical and both types can be refinished if ever needed, there are added benefits to SolidPlus®:

SolidPlus® has greater dimensional stability, a particularly important advantage for wider width planks.
SolidPlus® can be installed, like solid hardwood flooring, at or above grade, but it can also be installed below grade (basements).
SolidPlus® is eco-sensible as the same block of wood that yields one piece of traditional ¾" solid flooring produced 4-5 wear (surface) layers for SolidPlus® engineered flooring.

Nearly all of our customers today want to take advantage of another great innovation in hardwood flooring: pre-finishing done at our manufacturing site. The end result is a beautiful sheen that is nearly impossible to achieve with on-site finishing at your home, with the added plus that when your gray hardwood floors are installed, you are spared the disruption of staining, sanding and finishing that homeowners used to face after installation.
As you think about your home with stunning gray hardwood floors, contact a Somerset Hardwood Flooring retailer who can help you to look through all of your options and select the floor that will meet and exceed your expectations for years to come. Your investment in hardwood floors comes with a double pay-off: the beauty of hardwood and added value to your home.