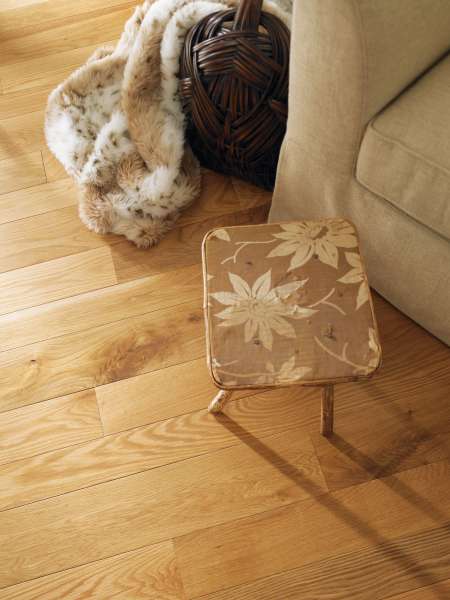 When you are thinking about hardwood flooring for your home, an important consideration is whether to select solid or engineered flooring. At Somerset Hardwood Flooring, we offer an array of floorings for your selection and nearly all of them are offered in both solid and engineered hardwood construction. We have been in the business for nearly 20 years and over time we created our own engineered flooring construction, SolidPlus®, with all the beauty of solid hardwood plus added benefits.
Somerset Hardwood Flooring, headquartered in Somerset, Kentucky, is located in the Appalachian timberlands. The Appalachian region is renowned for the outstanding quality of its native woods, making it the ideal source for today's hardwood floors. Our hardwood floors are manufactured from oak, maple and hickory lumber.
We are proud of being a family-owned business and one of only a few major flooring manufacturers to own and manage our own timberland. We employ a full-time forestry staff and have put together 100-year plans for the forest we own. We have control of our product from the forest to your home.
If you are thinking about engineered hardwood construction, there are a number of reasons that Somerset Hardwood Flooring customers choose SolidPlus®:
The installed look of Somerset SolidPlus® engineered flooring is identical to Somerset solid flooring.
One of the exciting aspects of SolidPlus® is that it is eco-sensible. When we manufacture SolidPlus®, the same block of wood that yields one piece of traditional ¾" solid flooring produces four to five 3mm wear layers (surface layer) for SolidPlus® flooring.
The lifespan of engineered flooring is the same as solid flooring. Our SolidPlus® 50-year Wear Warranty Protection is identical to our solid flooring warranty.
Engineered flooring is more dimensionally stable than solid wood flooring.
If ever needed, SolidPlus® engineered floors with their 3mm wear layer can be sanded and refinished.
SolidPlus® engineered flooring can be installed on any grade level.
SolidPlus® engineered flooring is more resistant to moisture than solid hardwood flooring.
When you are selecting your hardwood flooring, Somerset Hardwood Flooring offers SolidPlus® engineered flooring in many of our collections: Color Collection, High Gloss Collection, American Country Collection, Character Collection and Specialty Collection. SolidPlus® is available in popular plank widths and is packaged in random lengths up to 6 ½ '.
SolidPlus® flooring is pre-finished with our Ultimate™ Finish, eliminating the need post-installation to sand, stain and finish. When SolidPlus® is installed in your home, your flooring is ready for you to move in furniture and enjoy! One of the best advantages to selecting hardwood flooring for your home, whether solid or SolidPlus® engineered flooring, is that you will have the pleasure of stunning floors for years to come while your investment in hardwood flooring will undoubtedly add to the value of your home.
Contact a Somerset Hardwood Flooring retailer today and take that first step to your new hardwood floor! With Somerset Hardwood Flooring, you can explore all your options in both solid and SolidPlus® engineered flooring, knowing that whatever direction you decide to go, you are buying from a company that is committed to high-quality and total customer satisfaction.