Somerset Hardwood Flooring
THE TOTAL OPTIONS BIN DISPLAY
Maximize your sales potential in a minimal amount of space!
Display the impressive range of Somerset flooring colors and styles—201 skus—in a new compact integrated bin display.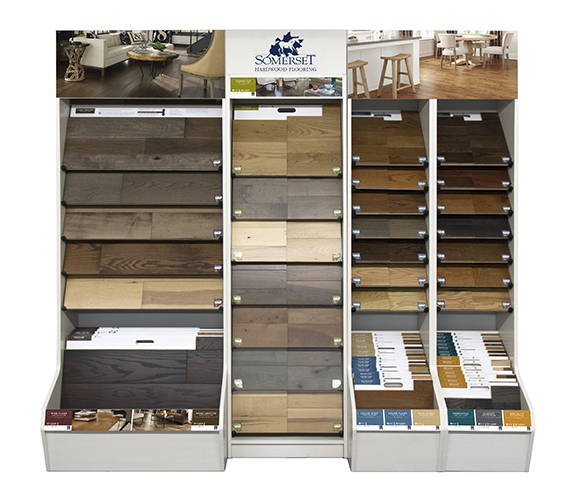 Item #SDTOD18
Kit Includes:
All the structural components and hardware necessary to set up your display as pictured above
New lower Collection bins help save space and make samples easily accessible
Nine product Collections—201 skus represented
65 product sample boards
Collection signs that identify where Collections are located and also specify how many colors are available
Two large room graphic header signs to inspire customers
Somerset Sample Boards are Designed to Sell:
Sample graphics have been redesigned for maximum effectiveness in this new display
Oversized samples for Wide, Character, and Hand Crafted
Split boards show products available in both Solid and SolidPlus® Engineered construction
SolidPlus Engineered samples feature a corner "cross-section cutaway" to call attention to the quality construction and 3mm thick wear layer
Full color info graphics on the back show flooring in room settings
Corner labeling system makes it easy to organize and select products
All samples have a hand hole for easy transport
DESIGNED FOR EASY SETUP—NO SPECIAL TOOLS REQUIRED.