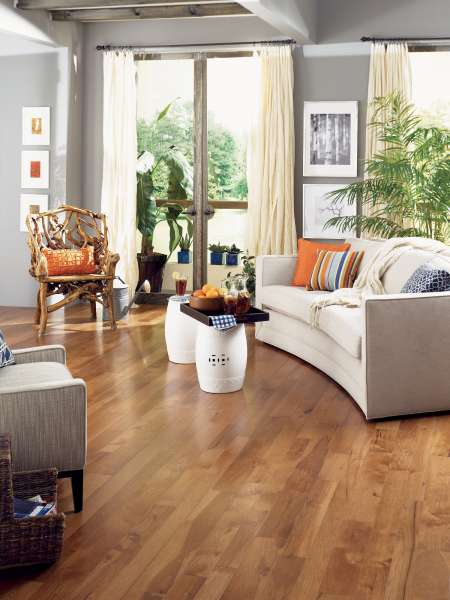 If you are thinking about replacing the floors in your current home or using hardwood floors in your new home, be prepared for the broad selection of hardwood floors available to the consumer. And keep in mind that not all hardwood floors are created equal. With so much riding on your purchase, Somerset Hardwood Flooring believes that your first consideration should be the quality of the wood. We take great pride in our high-quality flooring, manufactured exclusively from Appalachian hardwood. Appalachian hardwood is well known to be a superior flooring material for a number of reasons:
The region in which Appalachian hardwood is sourced is known for its warm summers which assist in growth and cooler fall leading to cold winter which, importantly, leads to slower growth. Slower growth creates more defined rings, consistent color and refined grain, all of which contribute to the beauty of Appalachian hardwood.
Appalachian hardwood is known for its strong fibers, contributing to its strength, durability and stability. This is an important factor in flooring that you want to do well through the years.
Somerset Hardwood Floors, located in the Appalachian timberlands, has been in the business of manufacturing hardwood floors for over 20 years. Headquartered in Somerset, Kentucky, we are a family-owned business that has staked our reputation on high-quality Appalachian hardwood flooring and excellent customer service. Homeowners recognize the critical advantage of hardwood sourced in the USA, contributing to the health of your family and your home.
As a vertically integrated company, we control hardwood sourcing, manufacturing, drying, milling and finishing of our product: from the forest to your home, you are dealing with Somerset Hardwood Flooring. We are one of only a few major flooring manufacturers to own and manage our own timberland and to employ a full-time forestry staff. We have put together 100-year plans for the forest we own. We think it's the right thing to do for the future of our company, our employees, and our families.
Somerset Hardwood Flooring works with three varieties of Appalachian hardwood: oak, maple and hickory. We divide our selection of hardwood floorings into nine collections, based upon a number of design qualities customers seek in flooring.
One of the biggest shifts in hardwood flooring has been the market moving from unfinished hardwood floors to pre-finished hardwood floors. We continue to offer both choices in order to accommodate customer preferences, but clearly many people have embraced pre-finished hardwood flooring for its elimination of the finishing process taking place in your home. With no need for staining, sanding and finishing after installation, pre-finished flooring has great appeal. Our factory pre-finishing creates finishes that are hard to replicate on-site. Somerset customers love the timeline provided with pre-finished flooring as flooring is complete upon installation. Move in your furniture and enjoy!
Our Appalachian hardwood flooring also offers the options of Solid or SolidPlus®:
Solid hardwood flooring is homogenous from top to bottom.
SolidPlus® is layered engineered construction that looks exactly like solid hardwood flooring.
If you are thinking about hardwood flooring for your home, this makes great sense. Somerset Hardwood Flooring, with its outstanding selection of outstanding quality Appalachian hardwood, will achieve your goals of great style and value. Contact your Somerset Hardwood Flooring retailer today – and learn how you can make your home more beautiful and enhance the value of your home with flooring that will generate years of great style while standing the test of time.